Turlock Community Theatre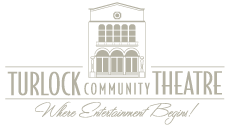 The Turlock Community Theatre is a 1000-seat professional performing arts theatre, which presents nationally and internationally acclaimed artists and is dedicated to enriching the cultural life of the region. Located in the heart of Turlock, the Theatre supports local and regional arts organizations and offers rich opportunities for people of all ages to enjoy the performing arts.
Throughout the year, Turlock Community Theatre offers high-quality entertainment, featuring performers from the U.S. and around the world. Comfortable seating in a historical landmark theatre, excellent acoustics and sightlines, high production values, and thrilling performances by outstanding entertainers combine to create an enchanting and pleasurable theatre-going experience for all who enjoy the special magic and allure of live entertainment.