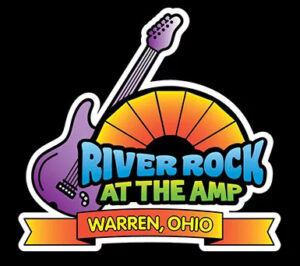 WARREN COMMUNITY AMPHITHEATRE (The Amp)
321 Mahoning Avenue NW
Downtown Warren, Ohio 44483
River Rock at the Amp classic rock concerts take the stage rain or shine at the Warren Community Amphitheatre. The Amp is located in picturesque downtown Warren, Ohio, along Millionaires' Row and adjacent to historic Courthouse Park overlooking the Mahoning River. The Amp is owned and maintained by the city of Warren.
In addition to Amphitheatre seating, there is plenty of room for lawn chairs and blankets. A wide variety of food and refreshments, including a beer tent, is located on site. No carry-in of beverages, food or coolers is permitted.
CONCERT TIMES
5:30 to 11 p.m.; Gates open at 5 p.m.
TICKETS
All tickets are general admission and are always available online (until ONE WEEK before a concert) and at the gate at the concerts. Tickets are $8, $10 or $12 per person depending on the concert. Children, ages 12 & under, are admitted free with an adult to all concerts (except for Friday, June 18, when everyone must have a ticket).
SPECIAL EVENT
Friday, June 18, is a special event – The Nielsen Trust. Doors open at 6:30 p.m. Concert starts at 8 p.m. Tickets are $25 in advance. Everyone must have a ticket for this special event, including children ages 12 & under. Tickets are $30 at the door
EXPRESS ENTRY
Bypass the ticket lines at the Amp when you buy your tickets in advance at:
 • Sunrise Inn of Warren (cash only)
 • 510 E. Market St., Warren, Ohio
CHAIRS
No one is permitted to set up chairs until 5 pm. This includes sponsors, fans, and guests of the bands. This is a security precaution and is meant to further ensure the safety of all. Please respect this policy and understand that any chairs set up early will be removed and returned to the owners after 5 pm. Chair bags are not permitted inside the gates. Chairs are permitted.
SECURITY NOTICE
These items ARE NOT permitted: CHAIR BAGS, backpacks, duffel bags, tote bags, oversized purses, weapons, coolers, animals (except for certified service animals), etc. In addition, carry-in of food or beverages is not permitted. These items ARE permitted: diaper bags, medical bags, and lawn chairs (no chair bags). We reserve the right to inspect all items.
FREE PARKING
Free parking for River Rock at the Amp is available within easy walking distance to the Amp in public parking lots, the Franklin Street Parking Deck and on-street in the downtown area. Handicapped parking is available on site. Designated motorcycle parking is located on site.
SUGGESTED ACCOMMODATIONS
Fairfield Inn Warren Niles
1860 Niles-Cortland Rd. SE
(Route 46) Warren, Ohio
Phone: 330-544-5774
Fairfield Inn Warren Niles offers short-term and extended-stay guests the amenities and comfort they desire. Enjoy shopping at Eastwood Mall or dine at the nearby restaurants. Once your day is over, return to our guest rooms that include free Wi-Fi, plush bedding, HDTV's with premium channels, and well-lit work areas. Join us every morning for our free hot breakfast that includes eggs, sausage, oatmeal, fruit, yogurt and more. Unwind and relax in our indoor pool.
VISITOR INFORMATION
Why not make it a weekend getaway? There is always plenty to see and do in Warren and Trumbull County. Contact Trumbull County Tourism. Find more things to do in Downtown Warren.
CANCELLATIONS
In the event of a cancellation or rescheduling of an event there will be no refunds, however, the value on the face of a ticket (or gate receipt) may be applied to the purchase of a ticket for any River Rock at the Amp event at the Warren Community Amphitheatre within a 12 month period. Get a ticket or a gate receipt at the gate when you enter the Amp if you have not obtained a ticket in advance.
DISORDERLY CONDUCT
Sunrise Entertainment reserves the right, without refund or exchange, to refuse admission to or eject any person whose conduct is deemed disorderly.
General admission and VIP attendees assume all the risks and dangers incidental to attending an event and hold all others involved harmless.